Are you or a loved one suffering from seasonal or chronic pain, anxiety, mood disorders, speech impairment, lymphatic drainage issues or health concerns stemming from the root cause of a poorly regulated central nervous system?
If you feel like you've tried every doctor, diet and alternative route for healing under the sun, the good news is, there is still hope. 
Rezzimax® is here to help you regain your health and well-being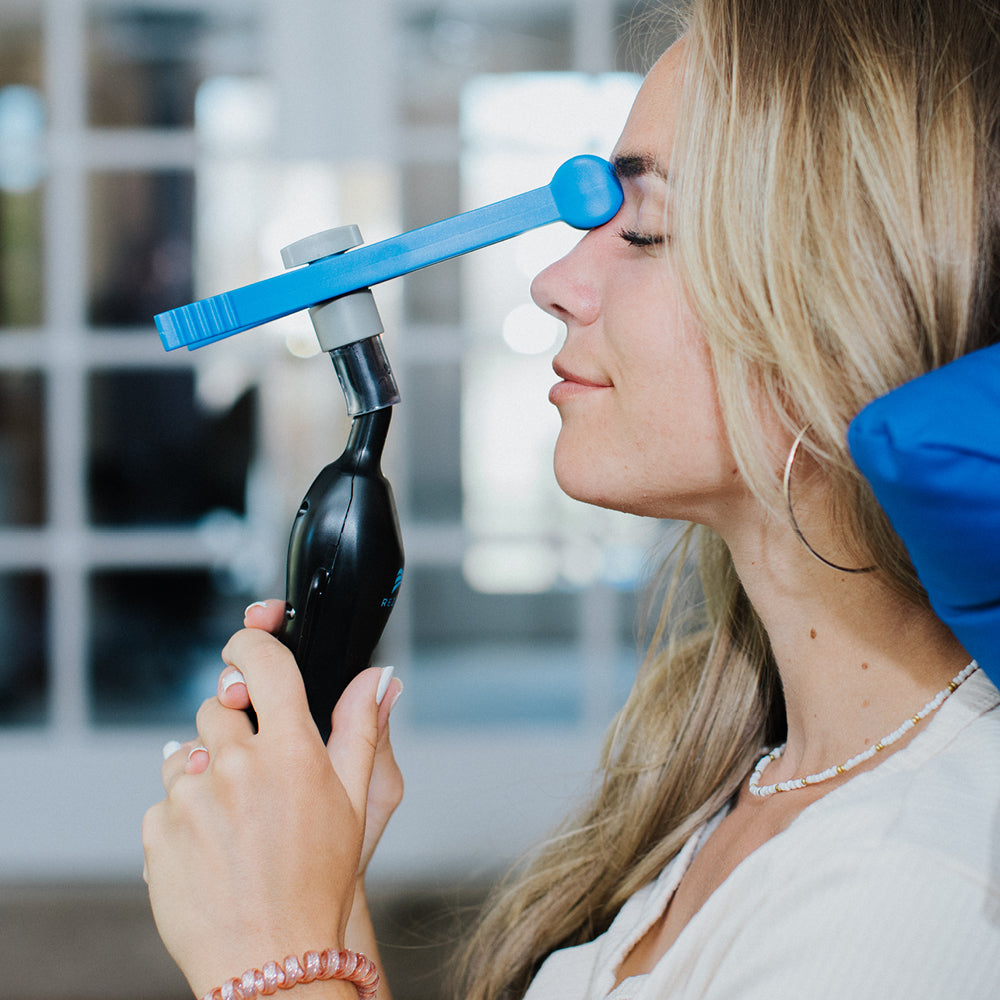 What is the Rezzimax® Pain Tuner Pro II?
Rezzimax® is the world-renowned, non-invasive neurological device for restimulating the vagus nerve and central nervous system which is responsible for the proper function of so many systems within our body.
A small, yet powerful handheld device that produces stimulation through variable vibration frequencies, it allows for movement activation and sensation. By improving nerve function, and sending blood flow to the areas that are causing you pain or symptoms, you can finally repair broken pathways in your body that have been preventing you from truly healing.
Natural relief for TMJ, TMD, sinus congestion, neck pain and more!
With Rezzimax® Pain Tuner Pro II you can re-train your central nervous system to function again
Rezzimax® offers a COMPLETE BODY REPAIR device that naturally makes way for healing by stimulating the body's own ability to generate endorphins and elevate serotonin levels. 
In as little as 10 minutes a day, you can begin resolving a number of central nervous system issues and as well as unlocking incredible health benefits including but not limited to pain relief, improved sleep, reduced stress, improved mood, constipation relief and more!
THE RESULTS SPEAK FOR THEMSELVES...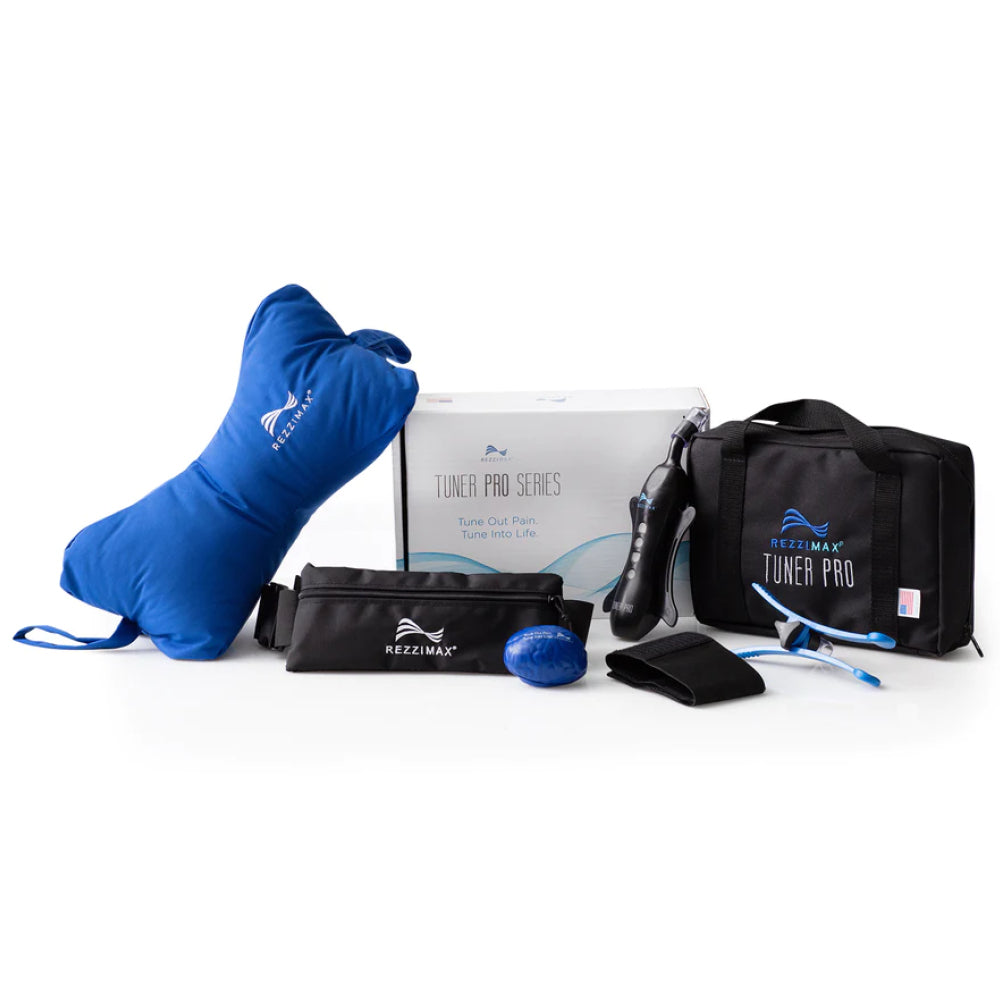 What's included
Your Rezzimax® Pain Tuner Pro II comes with a full set of attachments, which are used as points of stimulation for nearly every part of the body.
Choose between four settings and a range of protocols that are designed to target your specific areas of concern.
ORDER NOW
Included with your Rezzimax Pain Tuner Pro II
Rezzimax® Short Velcro Strap

Rezzimax® Adjustable Belt to put the device in
How we support you along each step of your healing journey
1. Book a free call or order online

2. Book your complimentary consultation

When you receive your Rezzimax®, we offer a complimentary consultation to walk you through how to use the device specifically for you or your loved one's condition.

3. Use it once, twice, a few times or ongoing

It's actually quite incredible, once you begin stimulating the nervous system you can see immediate results. For some, you may only need a few goes, for others you may choose to use it when a symptom flares.

4. Book a follow-up

After your initial consultation, we'll check in with you in the months ahead to see how you're going, if at this point you'd like some further training on how to get even more out of your Rezzimax®, we'll give you the option for a follow-up consultation.
Use it at home or as a therapy tool in your place of work
Rezzimax® is perfect for those with:
Migraines / Headaches Jaw Pain / TMJ & TMD /Neck, Shoulder or Knee Pain /Sinus Congestion/ Anxiety / Stress / Sleep Disorders /TBI / Concussion / PTSD / Myofascial Pain / Plantar Fasciitis / Primitive Reflexes / ADHD / Sensory Processing Tinnitus / Vertigo / Sports Injuries / Muscular Inflammation / Carpal Tunnel / Menstrual Cramps & Pain / MS / Fibromyalgia / POTS / Muscular Dystrophy / Chronic Pain / Trigeminal Neuralgia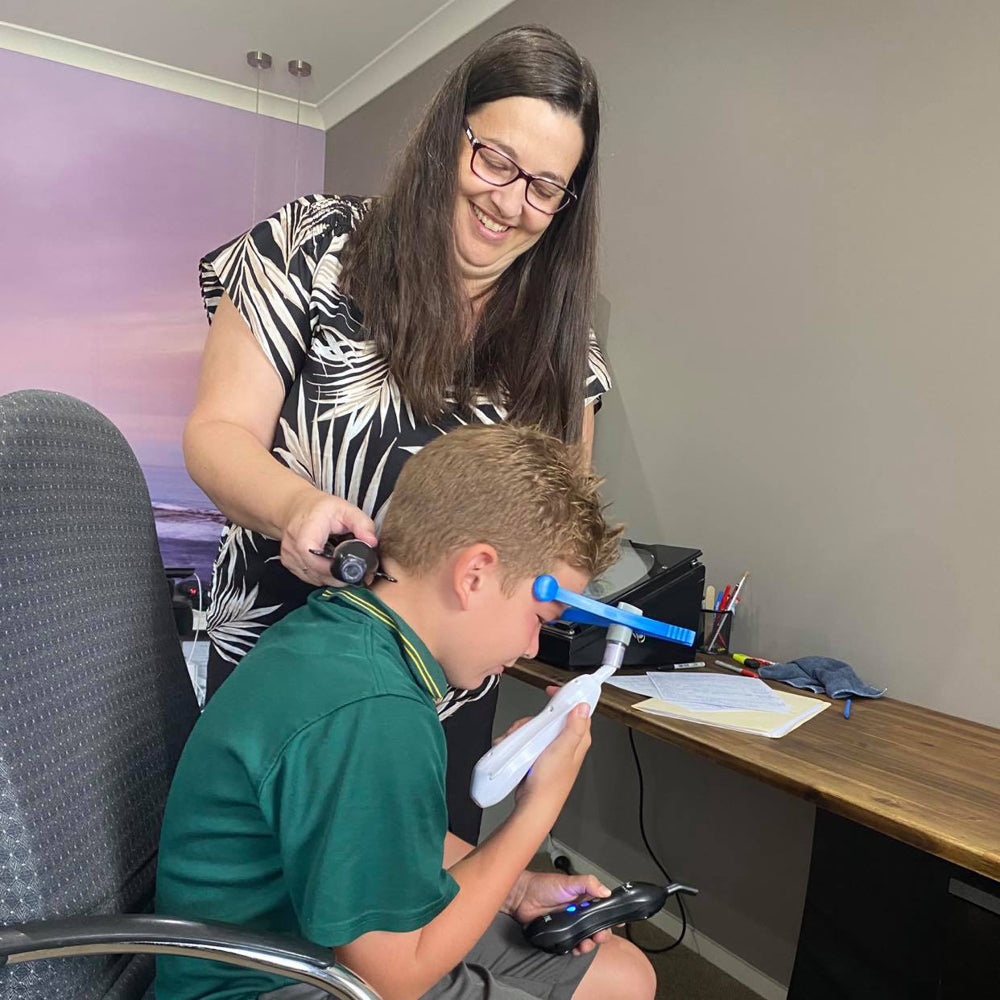 Meet Tanya - the official Australian distributor for Rezzimax® Pain Tuner Pro II
Hi, I'm Tanya and this is why I believe everyone suffering from chronic conditions should give Rezzimax® a go…
In 2019, my son Brayden suffered from a banging noise in one ear, that would be loud and fast sometimes and quiet and soft other times. We visited doctors who couldn't explain it. So we then went to an ENT, who wasn't sure either so he sent him for an MRI. Still having no idea, he said "Just see how he goes over the next 4-6 months". Well, knowing a bit about the brain and its plasticity and all the new possibilities of treatment I thought there has to be something out there that can help him. So, when my friend in New Zealand came across the Rezzimax® for her Tinnitus, I bought one for Brayden. I don't know who was more excited, Brayden or my husband (who had been suffering from a bad knee for a couple of months). Brayden's banging disappeared in less than a week. Mark was back to jogging in less than 2 weeks! To say I was impressed with this little machine is an understatement! This is why I am very proud to say I am the official Australian Distributor of Rezzimax®. I also use it when working with anyone completing The Alison Lawson Program or The Listening Program with my learning and development practice in Central Coast NSW. The Rezzimax® really is a great tool to stimulate brain hemispheric imbalances and speed up the results of inhibiting Primitive Reflexes (something my daughter, Abbie, struggled with and has seen fast-tracked results with overcoming extreme anxiety and learning and behavioural problems thanks to this nifty device combined with her usual program).
I am loving chatting or zooming with people who have bought a Rezzimax® for themselves, a family member, or for their business Australia-wide. Helping everyone understand their Rezzimax® better and be able to use it to its full potential is something that I enjoy helping people with, and something that unfortunately lacks with other providers. There are just so many benefits and uses for this amazing little tool, which I love. If you'd like to chat with me and find out if this device can help you too, book a free chat today.
60-day money-back guarantee
If you don't see change within 60 days, we offer you a full money-back guarantee… that's how much we believe in the product, and how successful it has been for other customers.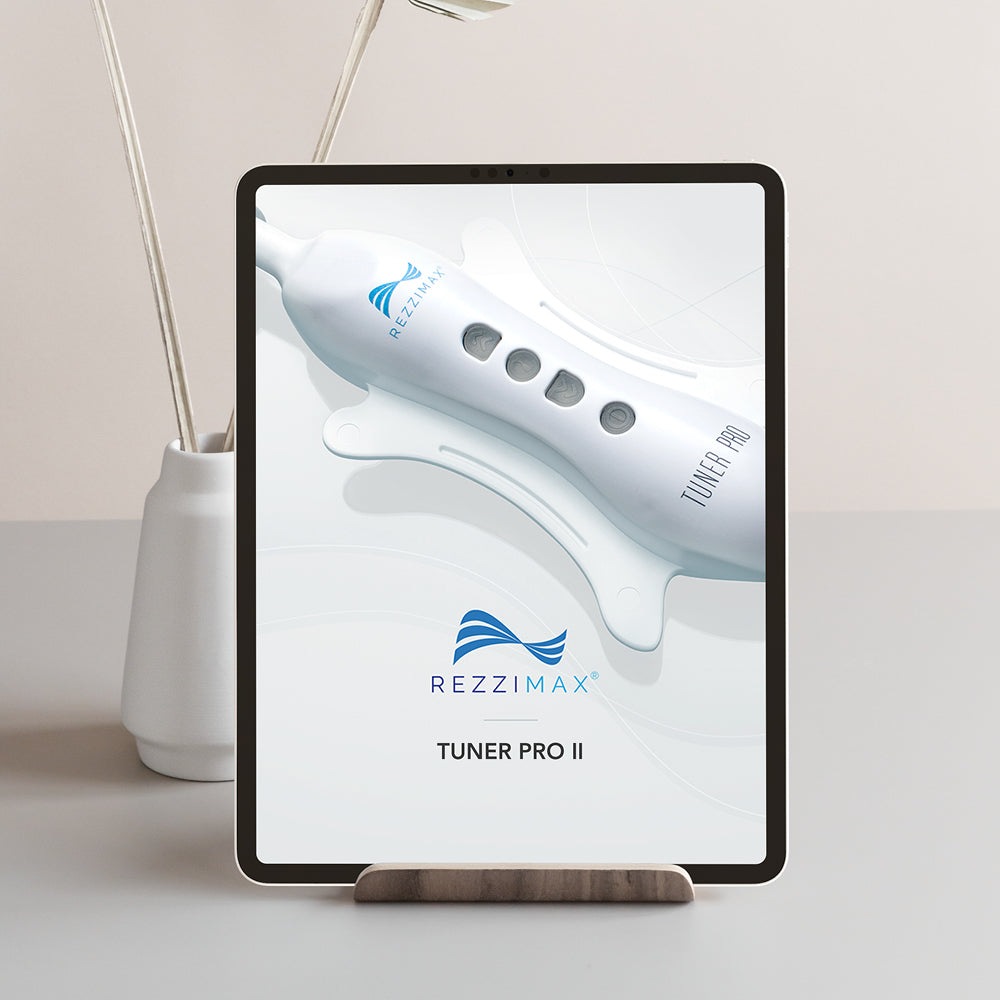 Download a free copy of the Tuner Manual with video lessons on how to treat your area of concern.
DOWNLOAD